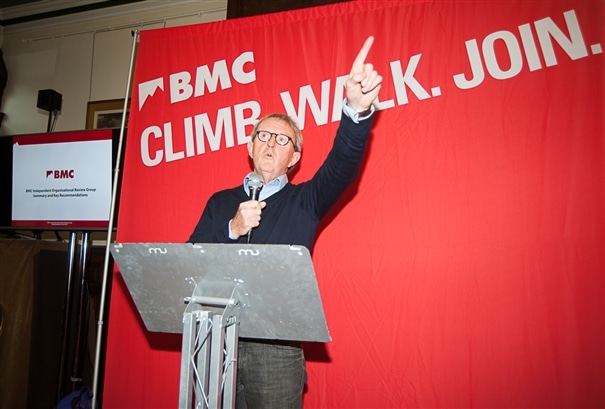 What's the BMC ORG all about?
Back in March I wrote about the BMC, and how it might have been the BMC's "Corbyn moment".  Since then, the BMC motion of no confidence has been and gone, voted down at the AGM, but some of the underlying issues have not gone away.  The activities the BMC is supporting have changed, and as an Alpine Club and Climbers' Club member too I know the modernisation some of these clubs are also going through.  Efforts are being put in by many, not just by the BMC, to make sure their organisations stay attractive to the climbers, hillwalkers and mountaineers, whilst staying true to their roots.
After the BMC AGM in April, an independent organisational review group was formed of volunteers, chaired by a QC, to make recommendations to the BMC, based on members' views, about how it should change, legally, structurally and strategically to make a BMC fit for the future.
Since April the ORG has worked collectively for thousands of hours, sent thousands of emails, written a 40k word report with 51 recommendations, gathered the views of over 4500 BMC members, spoken to c.25 partner organisations and stakeholders, launched a further consultation, and done a tour of England and Wales presenting the report at local area meetings, to over 400 BMC members.  This has been run completely independently of the BMC, and the staff, National Council and Executive didn't know the results until only a few days before the launch.
The full report is pretty heavy going, with a lot of "management speak" and legal terminology, but after all, it is about the legal structure, and management of the BMC, along with a host of more strategy and policy recommendations.  I've tried to break it down into some more bitesize chunks below.
What are the ORG recommending?
There are 51 recommendations, ranging from how the BMC should be structured legally, to its digital strategy, and from the democratic and representative mechanics, to how it should manage competitions.  All of these recommendations are intended to keep members at the heart of the organisation, make it accountable to members, and have the interests of climbers, hillwalkers and mountaineers at the forefront of its vision.
There are some really important recommendations, particularly given the BMC's current constitution.  The legal advice we took is summarised as:
"In our view, the M&AA as currently drafted do not reflect best practice, do not reflect good governance, create legal uncertainty and risk for the BMC and those involved in its governance." Womble Bond Dickinson
The best way to access the recommendations might be to flick through the slide deck from the local areas, and at the end, if you have the time the youtube video from the launch at Kendal Mountain Festival.  It's not your normal climbing film, get a big pot of tea, and take an hour…  the recommendations section starts start at slide 13.
Headlines
These are the top line recommendations:
The BMC should ensure it is both the representative body for all climbers, hillwalkers and mountaineers and the governing body for competitive activities.  On behalf of, and in conjunction with, its members, the BMC should:
Create a vision for the sector that includes the relationships with clubs, partner organisations and stakeholders

Create an organisational strategy to deliver this vision through its staff and volunteers

Serve its members openly and transparently, developing strategies to engage members democratically in determining its future

Recognise the importance of indoor climbing as an activity in its own right
Overall the ORG made recommendations in 5 categories: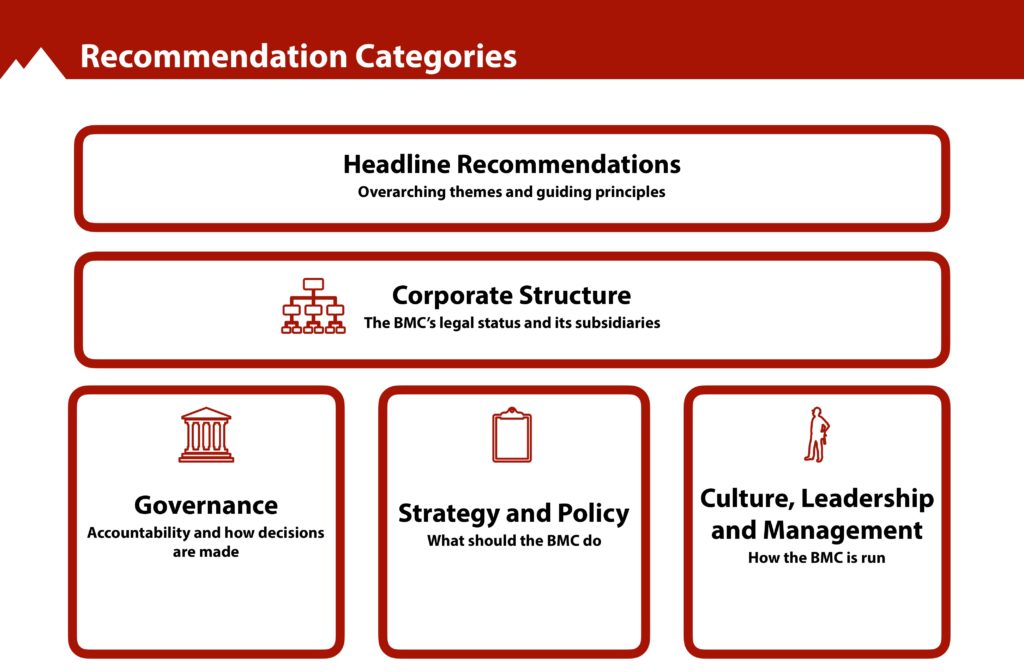 The other recommendations
Corporate Structure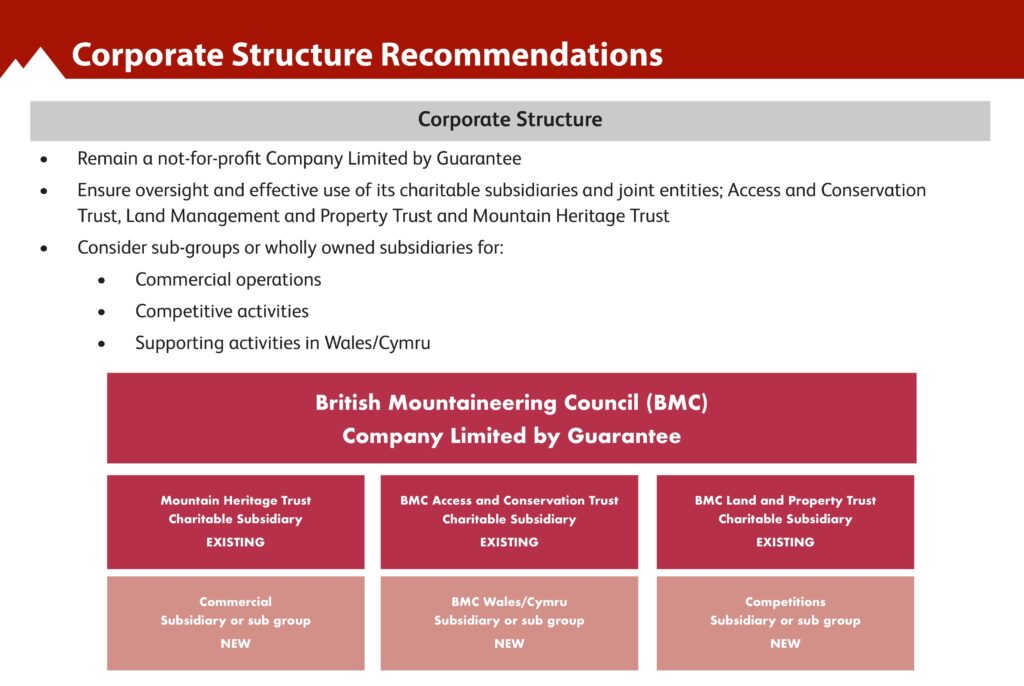 Strategy and Policy
Creation of a strategy development process

Review of who target members are, mindful of over-expansion

Encourage responsible growth in climbing, hillwalking and mountaineering

Core financial stability through a mixture of membership and commercial activities

Remain one member one vote, but restructure membership packages to meet the needs of individual members

Grant funding for non-core initiatives and projects only

Strategy to support clubs more effectively

Review, extend and strengthen strategic partnerships at home and abroad

Clarity on Olympic support

Creation of a digital strategy

Implementation of digital membership engagement platforms

Review management of membership engagement

Balance communications between sales and policy
Governance
Executive Committee disbanded and replaced by a Board of Directors, chaired by an independent Chair

Re-creation of a Nominations Committee and Finance/Audit Committee under the Board of Directors

National Council disbanded and replaced by a  Members' Assembly chaired by the President

Creation of a Partners' Assembly

Clarity on role of Patrons

Review of Specialist Committees and working groups

Operational changes to Local Areas

Implementation of online voting for AGMs

Introduction of an effective grievance process

Effectiveness review of Articles of Association changes after three years
Culture, Leadership and Management
Senior Leadership Team expanded to three Directors; CEO, plus two other senior roles

Senior Leadership Team to create a business plan approved by the Board of Directors

Senior Leadership Team measured, by the Board of Directors, to robust and challenging objectives

Senior Leadership Team responsible for performance management and HR

Senior Leadership Team to encourage culture of empowerment and delegation

Senior Leadership Team responsible for creating robust and measurable objectives for staff

Creation of plan for staff career training and development

Clear policies for staff when working with partner organisations

Review to enhance volunteer support, induction and management

Policy for regular recognition of significant contributions to the BMC
What the recommended BMC structure will look like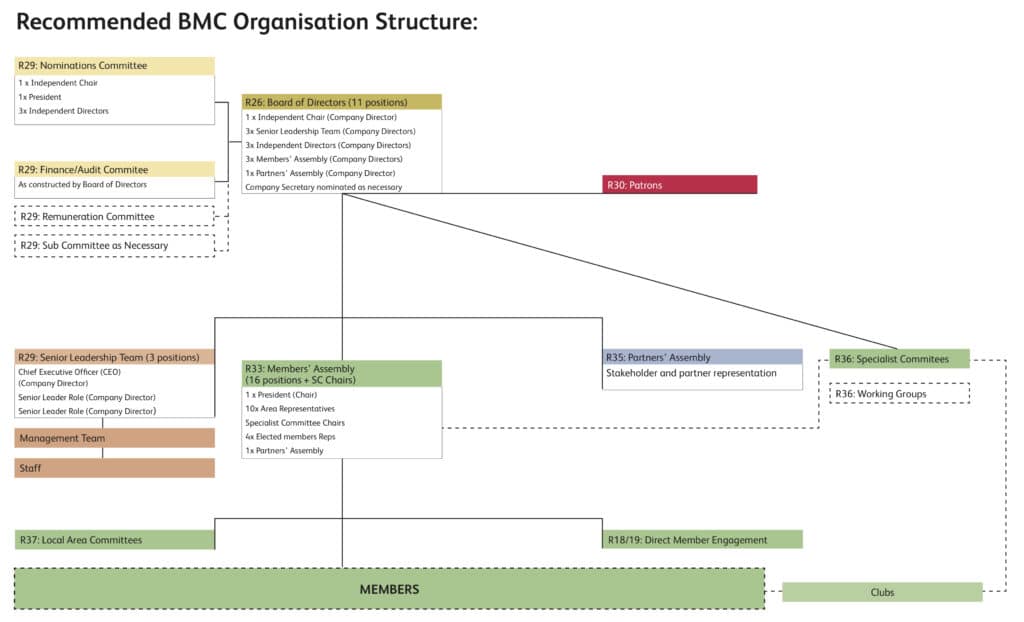 Read the full Report
There are 2 versions of the report:
What next for the ORG?
The launch of the report is the start of a consultation phase.  This isn't the end of the process and the ORG needs feedback to know if we've got it right.  Many of the clubs and other partner organisations and groups like patrons are feeding back too.
Any changes will need to be formally voted on at the AGM currently planned for April.  Any changes to the "legals" will require a 75% approval from those BMC members voting in person or by proxy.  This isn't a Brexit style vote, it needs a big majority of members for changes to happen.
We have had some robust challenges from lots of members in local area meetings, and we've had an entourage of BMC30 (the group that launched the motion of no confidence) following us round too to ask questions. It's important that our thinking is challenged and passes the "member test."  The BMC is a representative organisation, and change recommendations should be challenged and tweaked (if needs be) before they go through to a vote.
If you've read the report, please let the ORG know if you approve, or don't, and comment if there are changes you think we should make to the recommendations
The consultation is being run independently, you'll need your BMC membership number, but the ORG won't know who you are (the data sets will be separated), the researchers just need to know you're a member.
If you want to ask questions about the ORG recommendations, or send us feedback you can also email: [email protected]
Facebook Live!
You can also watch our Facebook live QnA:
We'll potentially do some more of these throughout the coming months, so keep any eye on the BMC Facebook https://www.facebook.com/BritishMountaineeringCouncil/
Some ORG stats
It's been a huge piece of work, and it's been great to work with the BMC, and an amazingly committed group of volunteers with a enormous amount of experience and expertise.
Best attended local area meeting: Peak – 115 BMC members
Latest email sent: Rebecca Ting – 4am
Longest week: c. 50 hours on top of the day job
Most frustrating moment: Finding the typo on page 9 of the full report
And with that… I'm off climbing.