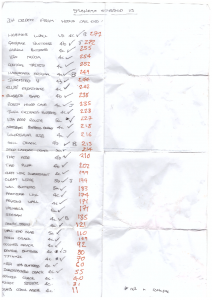 In climbing folklore the 1989 Stanage guide is the real guide to Stanage. Proper grades, proper stars, proper descriptions, proper difficult finding the routes. Rumours of the VS challenge came from my old university housemate who had allegedly climbed it way back when, possibly before 1989 as far as the rumour knew. The VS challenge to those that haven't lived in Sheffield is all the starred, *, **, *** VS on Stanage from the 1989 guide in a day.
Maybe we're making the challenge easier by using the 1989 guide but let's be honest, these days route stars are practically given away for free! These routes really are a set of the best of the easier routes on Stanage.
The route list is here: http://www.ukclimbing.com/logbook/set.php?id=437
In 2006 I completed this with Ben on a Mayday bank holiday. 36 pitches in a day with about 5km of walking between the first and last route. We completed it in the dark, having started at about 9am, and promptly drove to the student haunt of Balti King for a celebratory curry.
In a random spurt of motivation, partly due to it being the first sunny day in the washout of a summer, we decided to have a repeat last Saturday. A 0730 start in order so that I could make the 1935 train back to London (yeah right). Needless to say it was a toss up between the final route and leaving to make the train and the route won. Getting to the office in London by 9am the next morning was almost equally as tough following the previous day.
This all said, the challenge isn't easy and staying safe is tricky. Top tips:
Use a double rope with one person tied in, the other clipped in
Rack: 1-8 nuts, green+yellow+grey+red aliens, camalots 1+2+3
Put all cams on a quickdraw and have 3 extra quickdraws for nuts
Mark the routes in a newer guide
Take lots of water
Take lots of food
For those of you that climb a little harder the E1 challenge is worth serious kudos. We did this on June 10th 2007, but it took 2 goes, and is far far harder. (http://www.ukclimbing.com/logbook/set.php?id=443)